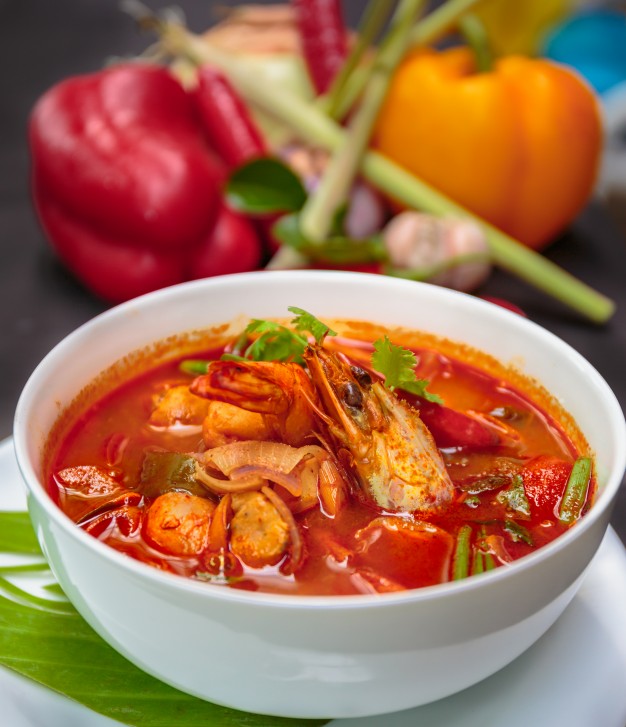 Thailand is one of the country that being called as heaven of foods. Thailand has a lot of famous food such as their Thai Green Curry, Tom Yum Goong, Som Tam Thai and so on. So this is some easy Thailand food recipes that will make you feel like being in Thailand.
Tom Yum Goong is one of the most well-known Thai Recipe and this is the BEST recipe that will make you addicted to eat because of their spicy, tantalising flavour, sour and full with flavour of prawns, herbs, vegetable and many more.

TOM YUM GOONG INGREDIENTS:
Water: 2 – 3 cups (1/2 of a sauce pan)
Shrimp (can substitute Chicken): 10 shrimp
Tomatoes: 2 tomatoes
Limes: 4 – 6 limes (depending on how sour)
Thai chilies: used about 8 chilies
Mushrooms: handful
Lemongrass: 1 sliced handful (about 2 stalks)
Kaffir lime leaves: about 8 leaves
Galangal root: 1 inch by 1 inch chunk
Fish sauce: a few squirts (1 – 2 teaspoons)
Sugar: 1 teaspoon
HOW TO MAKE TOM YUM GOONG:
Step
Gather the ingredients.
Pour stock into a deep cooking pot and switch heat to medium-high. Add lemon grass, including upper sections of the stalk you didn't mince. Boil hard 5 to 6 minutes to soften.
Add garlic, onion, galangal or ginger, lime leaves (or bay leaves), lime or lemon juice, fish sauce, soy sauce, and carrots. Reduce heat slightly, cover, and continue lightly boiling 5 minutes. Add mushrooms and zucchini, and continue lightly boiling another 5 minutes.
Add shrimp and tomato cherries. Cook another 3 minutes or until shrimp are pink and plump.
Turn down the heat to low and add 1/4 can coconut milk plus more fish sauce to taste. This is where the soup comes to ​perfection. Taste-test for the most flavourful you can make it, without tilting over into too-salty, adding more fish sauce until you're happy with the flavour.
Serve with fresh coriander sprinkled over, and enjoy
INDONESIAN FOOD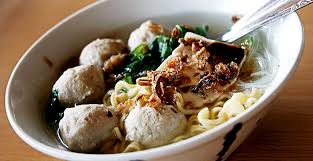 Bakso is an Indonesia meatball or a meat paste made from ground beef. Its texture is similar to the Chinese beef ball , or fishcake. The word bakso may refer to a single meatball or the complete dish of meatball soup.
INGREDIENTS:
Bakso soup:
400g veal bone
4 liter fresh water
Seasoning For Beef Meatball Soup:
5 cloves garlic
4 cloves red onion
½ tablespoon fried onions
2 teaspoon sugar
1 teaspoon salt
½ teaspoon pepper
4 stalks scallion (white part)
2 teaspoon instant beef broth
Bakso meatball:
250g ground beef
2 tablespoon fried shallots
1 tablespoon garlic fries
½ teaspoon pepper
1 teaspoon salt
50g starch
40g ice cubes (crushed)
2 liter of water to boil bakso
HOW TO MAKE THE BAKSO SOUP:
First, boil the water
Enter all of the ingredients and seasonings together including onions and garlic
Wait until boiling and mature bone
Then reduce the heat and let the sauce will still be above the stove.

HOW TO MAKE THE BAKSO MEAT:
The first is insert the meat, pepper, onion, salt, and flour in a food processor or blender. Then milled them until smooth and well blended
Then Add ice cubes if the batter buckled and hard formed
Heat the water over low heat until almost boiling
Grasp the dough and press to appear between your thumb and forefinger.
Then cut with a spoon and put the meatballs in hot water.
Do it until all the dough is finished
Raising the heat and cook until all the Bakso cooked.
KOREAN FOOD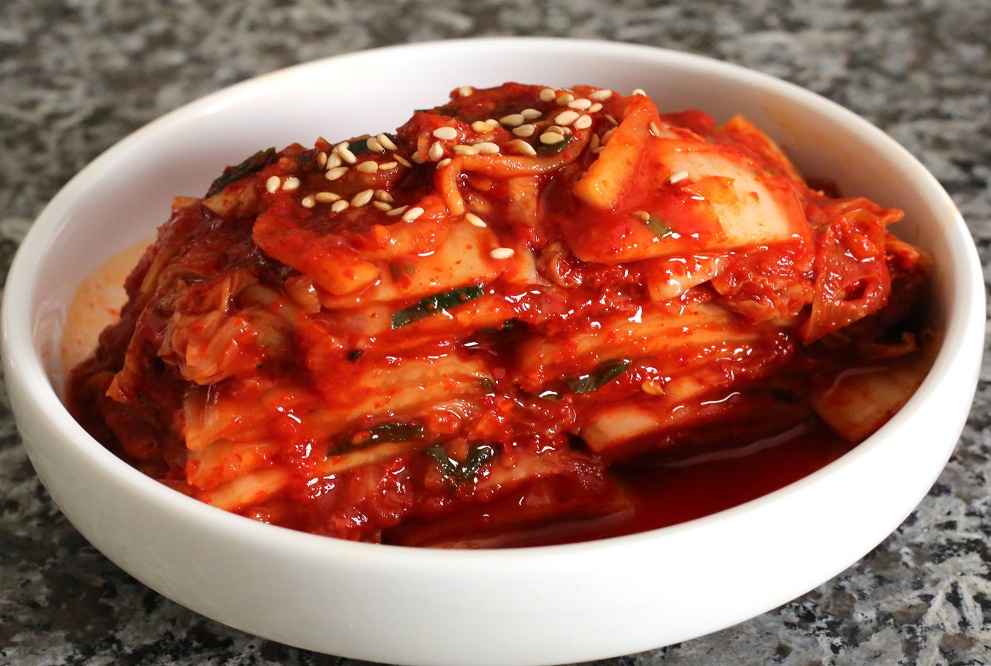 What is it? Spicy, fermented cabbage.
This stuff is as essential as bread and butter. It's spicy (duh), crunchy, and kiiiind of salty, and goes well with literally every Korean dish

KIMCHI INGREDIENTS:
One napa cabbage
2 tablespoon of salt
1 tablespoon of sweet rice flour
1/2 cup of korean hot chilli pepper flakes
4 tablespoon fish sauce
2 tablespoon sugar
3 green onions
1/4 medium sized onion
3 cloves of garlic, minced
1/2 tsp of ginger, minced
DIRECTIONS FOR MAKING KIMCHI
Dissolve salt in 1 and 1/2 cups of water.
Chop up napa cabbage and soak in salt water for 3-4 hours or until soft. (Can take up to 6 hrs.)
To make the paste, add the sweet rice flour and one cup of water to a pot.
Put over medium heat and continue to stir until thickened (about 5 mins).
Transfer paste to a large bowl and add the korean chili pepper flakes, fish sauce, and sugar.
Mix well and let the paste cool.
Add green onions, onions, garlic, and ginger to the paste and mix.
Once the cabbage is soft, remove from salt water and rinse thoroughly (we rinsed 3x).
Massage paste into the cabbage and store in a jar.
Serve immediately if you like fresh kimchi. If you like it more fermented, wait until it fits your tastes.